Children's Books
Join us on an adventure!

Knights Edge is proud to provide historical, fiction and nonfiction books for the young reader. We include such authors as New York Times and USA Today's best selling author Mary Pope Osborne, who has been delighting millions of children since 1992 with her award winning Magic Tree House Series. As was written of the series in Children's Literature, "Mary Pope Osborne provides nicely paced excitement for young readers, and there's just enough information mixed in so that children will take away some historical fact along with the sense of accomplishment at having completed a chapter book."

Whether your child wants to be a ninja, pirate, knight or samurai, we have the books for you!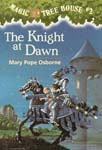 Regular Price: $3.99
Customer Regular Price: $3.75
Regular Price: $3.99
Customer Regular Price: $3.75